Vapor is the Stormcloud Pokemon. It evolves from ??? at level 36. It is the final evolution of
Droplet
. Vapour is Water/Electric, while MegaVapour is Fire/Electric.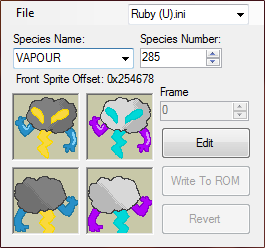 Appearance
Edit
Vapour is a dark grey stormcloud. It has a thunderbolt coming out of it's bottom. It has blue water arms, and yellow eyes. It has no mouth.
Shiny Vapour is a light grey stormcloud. It's thunderbolt and eyes are teal. It's arms are purple.
Appearances
Edit
None
Tackle
Growl
Water Gun
Water Pulse
Water Pulse
Water Gun
Bide
Thunderbolt
Foresight
Mud Sport
Take Down
Thunderbolt
Protect
Thunder Wave
Endeavor
Pokedex Entry
Edit
Vapound can shock enemies below with it's signature lightning bolt. This Pokemon was recently renamed.
Ad blocker interference detected!
Wikia is a free-to-use site that makes money from advertising. We have a modified experience for viewers using ad blockers

Wikia is not accessible if you've made further modifications. Remove the custom ad blocker rule(s) and the page will load as expected.