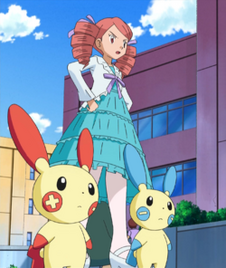 Ursula is a character that appears in the
Pokémon Tales
franchise, debuting in
Pokémon Tales: Wyatt
. In the future, she will be a rival for
Dawn Berlitz
.
Appearance
Edit
Ursula has her anime appearance for her standard attire. She has pink hair with pigtails in a curl. She wears a light blue dress with a small white jacket, white stockings and blue shoes.
Character
Edit
Not much is known of Ursula's character due to a limited appearance. However, she has exhibited a persona similar to Dawn's, implying that she comes from a rich family. She has an enhanced vocabulary and royal speech pattern, as well as a strong presence. She sees others as inferior to her, yet shows respect to those who serve her.
Appearances
Edit
Ursula is the same age as Dawn. She was 13 upon her debut.
While her persona is very similar to her anime counterpart, she has a different backstory.
Ursula is the first main rival character intended for the main series of Pokémon Tales episodes to debut in a spin-off series.
Ad blocker interference detected!
Wikia is a free-to-use site that makes money from advertising. We have a modified experience for viewers using ad blockers

Wikia is not accessible if you've made further modifications. Remove the custom ad blocker rule(s) and the page will load as expected.