Sleether
Body Type
Snake
Abilities
Torrent

Slippery

Episode First Shown in
None
First Known Owner
N/A
First Game Appeared in
Type
Water
National Dex Number
B007
Sleether is a Water-type Pokemon. It evolves into
Hydrosnake
at level 16, and then into
Serparine
at level 32. It is native to the
Biotri region
, which first appears in the games
Pokemon Bio Version
and
Pokemon Mecha Version
. It is the Water-type starter for Biotri.
Appearance
Edit
Sleether looks like a blue snake, with a fin on the top of his head. He has yellow eyes, and slightly lighter blue stripes throughout his body.
Appearances
Edit
None
Lvl.0- Tackle, Growl
Lvl.7- Water Gun
Lvl.11- Bite
Lvl.14- Hydrate
Lvl.17- Soak
Lvl.21- Headbutt
Lvl.27- Coil
Lvl.38- Aqua Bomb
Pokedex Entry
Edit
Pokemon Bio Version
Edit
Sleether likes to reside in coral reefs, and often eats the coral itself. It occasionally grows a second spike on its head.
Pokemon Mecha Version
Edit
Sleether always likes to live near coral reefs, and has a diet of coral and small fish. Sometimes there is a second spike on its head.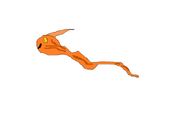 Ad blocker interference detected!
Wikia is a free-to-use site that makes money from advertising. We have a modified experience for viewers using ad blockers

Wikia is not accessible if you've made further modifications. Remove the custom ad blocker rule(s) and the page will load as expected.