Puggler is the Toy Dog Pokemon. It evolves into
Pugglistic
at level 18.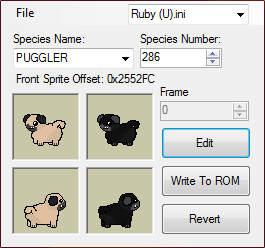 Appearance
Edit
Puggler resembles a fat pug. They have derpy black eyes and black ears. Their fur is fawn. Pugglers' teeth are white.
Shiny Pugglers have black fur, grey ears and muzzle, and slightly yellow teeth.
Appearances
Edit
None
Tackle
Howl
Sand-Attack
Bite
Odor Sleuth
Roar
Swagger
Scary Face
Take Down
Taunt
Crunch
Thief
Pokedex Entry
Edit
Pugglers, when they are not napping or eating, try to bite their tails in preparation for when they fight for their mates.
Ad blocker interference detected!
Wikia is a free-to-use site that makes money from advertising. We have a modified experience for viewers using ad blockers

Wikia is not accessible if you've made further modifications. Remove the custom ad blocker rule(s) and the page will load as expected.