Hoothoot
Body Type
Owl
Abilities
Insomnia, Keen Eye, Tinted Lens (Hidden)
Episode First Shown in
Pikachu's Rescue Adventure
First Known Owner
Falkner
First Game Appeared in
Type

Normal

/

Flying

National Dex Number
163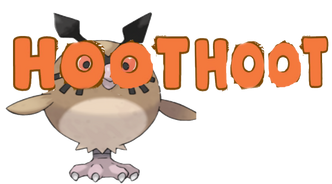 Hoothoot is the Owl Pokemon. It evolves into Noctowl at level 20.
Appearances
Edit
Hoothoots were mentioned in Wakin' Up. Later, in Berry Trouble, Hoothoots were still mentioned, but they were mentioned being at a book club.
Wild Hoothoot escaped a forest fire in Vs. Magby.
A coordinator's Hoothoot appeared in Vs. Xatu.
A wild Hoothoot appeared in Vs. Budew.
Tackle
Growl
Foresight
Hypnosis
Peck
Uproar
Reflect
Confusion
Echoed Voice
Take Down
Air Slash
Zen Headbutt
Synchronoise
Extrasensory
Psycho Shift
Roost
Dream Eater
Ad blocker interference detected!
Wikia is a free-to-use site that makes money from advertising. We have a modified experience for viewers using ad blockers

Wikia is not accessible if you've made further modifications. Remove the custom ad blocker rule(s) and the page will load as expected.