Goldablock is a rock type pokemon. It evolves into Goldem at level 16.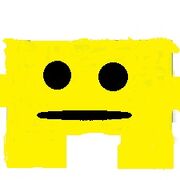 Appearance
Edit
Goldablock is a very small rectangular creature.  It is made of golden blocks and has stubby arms and legs.  
Goldablocks can be found in mountains, trainer routes, caves, and volcanoes. 
Goldablocks will eat any normal Pokemon food you feed them but they love human food too like waffles and pizza.  They also like to eat blackberries, strawberries, and kiwi. 
Ad blocker interference detected!
Wikia is a free-to-use site that makes money from advertising. We have a modified experience for viewers using ad blockers

Wikia is not accessible if you've made further modifications. Remove the custom ad blocker rule(s) and the page will load as expected.